Ivan F. Glumov
Board of Directors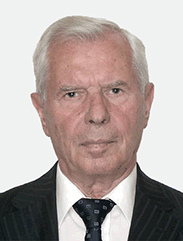 Ivan F. Glumov
Independent member of the Board of Directors
Ivan F. Glumov was elected independent member of Mechel's Board of Directors in June 2022.
Currently (since 2004) he is general director of Severneftegaz JSC.
Since June 2012, Mr Glumov is deputy chairman of the UN Commission on the Limits of the Continental Shelf.
In 1999-2004, Mr Glumov was Russia's deputy natural resources minister.
Mr Glumov holds a doctorate in technical sciences and is a professor of Moscow State University. He is Honored Geologist of the Russian Soviet Federative Socialist Republic, Honored Scientist of the Russian Federation, laureate of the Soviet and Russian state and government awards in science and technology.
Ivan F. Glumov graduated Moscow Institute of Geodesy and Cartography with a specialty in geodesic engineering.
вернуться назад