Yury N. Malyshev
Board of Directors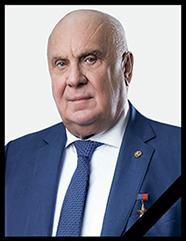 Yury N. Malyshev
Independent member of the Board of Directors
Yury N. Malyshev was elected independent member of Mechel's Board of Directors in June 2013.
Mr. Malyshev is currently Director of the State Geology Museum of Vladimir Vernadsky. He is also President of the Mining Sciences Academy since 1993.
In the period from 1999 until 2013 he was President of the non-profit organization Russia's Mining Industrialists, in the period from 2010 until 2016 - was the Chairman of the Board of Directors in ZAO "OShK Soyuzspetsstroi".
Yuri Nikolaevich is currently also the Honorary President of the NP "Mining Industrialists of Russia".
Mr. Malyshev has nearly 50 years of experience of working in the mining industry on various executive posts.
Mr. Malyshev is a member of Russia's Academy of Sciences, holds a doctorate in technical sciences and is a laureate of the USSR Council of Ministers' Award (1984), Lenin Komsomol's Award (1990) and the Russian Federation's State Award (1993).
He also holds the honorary title of Distinguished Luminary of the Russian Federation's Sciences and Technology. He was awarded the State Order for Merit to the Motherland of the 3rd grade and the Miner's Glory award of all three grades.
Yury Malyshev graduated from Kemerovo's Mining Institute with a specialty in developing deposits of mineral resources.
вернуться назад