Dmitry S. Voytkus
Management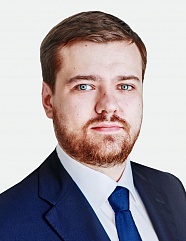 Dmitry S. Voytkus
Deputy Chief Executive Officer for Financial Control
Dmitry S. Voytkus has been a member of Mechel's Management Board since June 2020 and Deputy Chief Executive Officer for Financial Control since May 2020.

Prior to this appointment, since 2019 he has worked as head of the group for strategic analysis at the TVEL Fuel Company (TVEL), part of state-owned company Rosatom.

In 2018-2019, Mr. Voytkus served as team leader at TVEL.

In 2014-2018, he was project manager at Uranium One Holding, part of state-owned company Rosatom.

In 2013-2014, he worked as a manager of resource planning & controlling in Sberbank's operations division.

In 2011-2013, he worked as a consultant for KPMG.

In 2008-2011, he was deputy general director for business development at Trading House Alkon.

In 2005-2008, he worked as head of EastWind's project management department.

Mr. Voytkus has a degree in innovation management from Ural State Technical University, which he graduated in 2008. In 2010, he graduated Manchester Business School (the University of Manchester) with a Master of Business degree in Global Business Analysis.
вернуться назад