Business Ethics and Human Rights
Business Ethics and Human Rights
Mechel adheres to the ethical business approach. The company respects the rights of its employees and external stakeholders, seeks to maintain an open dialogue with its business partners. The company management demonstrates integrity and commitment to ethical values to all employees.
It is important for Mechel that the principles of ethical business conduct are observed not only by its employees, but also by its contractors. To maintain its business reputation, the company seeks to cooperate only with responsible business partners. To reduce the risk of cooperating with counterparties who may be engaged in corruption activities, Mechel assesses its partners in terms of their compliance with business ethics and anti-corruption legislation. Anti-corruption provisions may be included into contracts if required.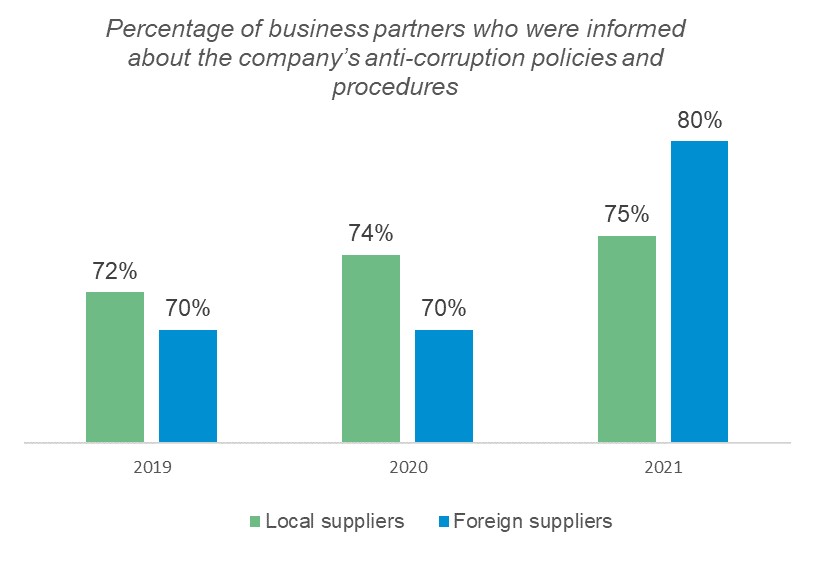 It is important for the company to regularly examine possible breaches of business ethics standards and anti-corruption rules and regulations. To ensure this, the company has special confidential channels which employees and stakeholders may use to report potential violations. These channels work 24/7 and allow anonymous messaging.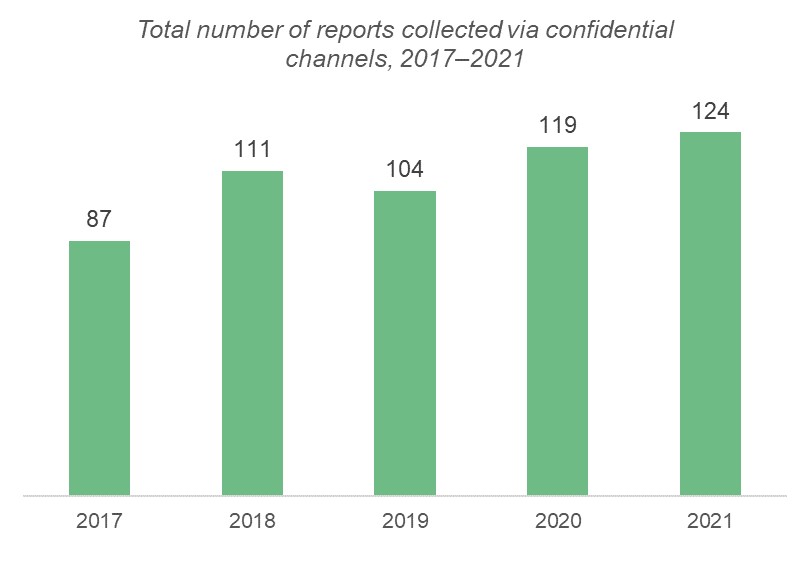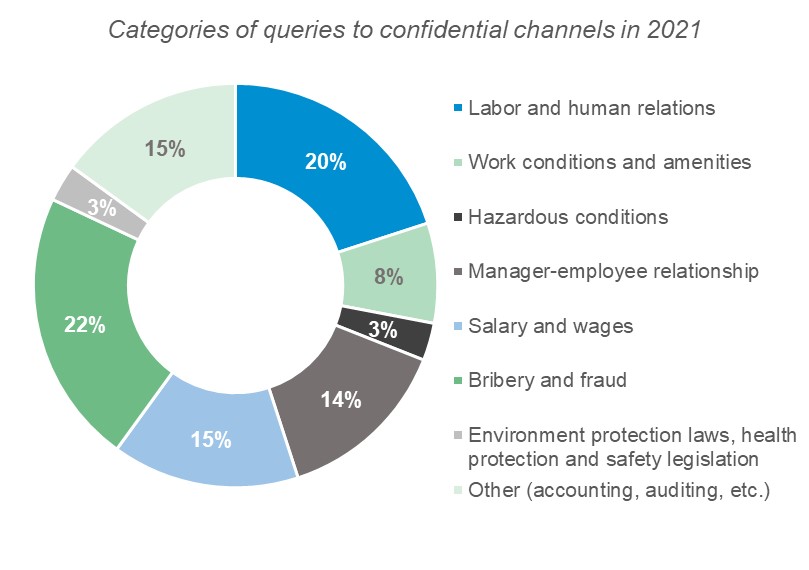 Mechel's confidential communication channels
· +7 495 921-17-27 or +7 495 221-88-88, the extension number 6-22-55 – automatic voice mail for voice messages
· Confidential corporate email: sos@mechel.com
· Mailing address: Krasnoarmeiskaya St, 1, Moscow, 125167, Russia
· Feedback form on the company's website: IR Contacts (mechel.com)

Human rights
Strict adherence to human rights and non-discrimination principles is the basis of long-term and trust-based relations with all stakeholders. Mechel is firmly committed to human rights, follows the principle of equal opportunity and does not tolerate any type of discrimination based on gender, age, nationality, religion, social status, disability or any other characteristic.
The company complies with Russian legal requirements and follows the generally accepted standards and rules regarding human rights protection. Mechel does not use child labor, forced labor and other forms of slavery, follows the principle of zero tolerance towards the use of such labor across the entire supply chain.
Mechel ensures equal opportunities for employment, career promotion, remuneration and training for all employees. All decisions regarding current employees and potential candidates are only made based on their professional qualities, skills, experience and abilities.
Relationships between the company and its employees are based on the principle of social partnership as specified in collective agreements. All Mechel's employees and suppliers have the right to the freedom of assembly, forming trade unions, negotiating and signing collective bargaining agreements.
Trade unions work at the company's facilities, in order to protect employee interests and serve their needs.