Human capital is a key factor of Mechel's successful development. The company seeks to create safe and decent working conditions to help employees achieve their potential.
We are proud of having created a strong and highly efficient team. The hardships we faced together and the heights we reached bonded us into a team that shares the same views, is strong with professionalism, persistence and unity, and can tackle any task.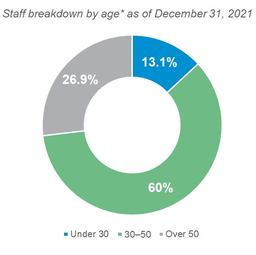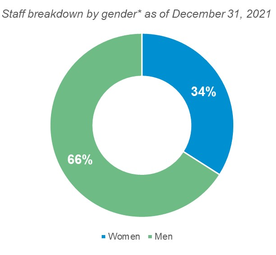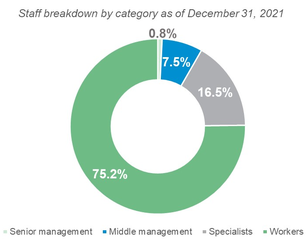 *Including non-staff personnel (members of the Board of Directors).
We strive so that our employees can realize their potential to the fullest, bring to life their most ambitious ideas, and are satisfied and proud of their choice to work for Mechel. Our staff in their turn repay our care with many years of conscientious work and ensure the company's stability and leadership in dynamic competitive environment.
Acknowledgement of our employees' merits and the drive to ensure a worthy lifestyle for our staff and their families, attention and care for their problems – those are the basic principles of Mechel's social policies.
Our activities in the social sphere include non-governmental retirement programs, health and recreation for our employees, sports events and care for the employees' families, work with trade unions and development of those regions where our enterprises are located.
Good health is key to successful work. We think that health and recreation measures are the most efficient method of preserving the health of Mechel's personnel and their families. Those include rehabilitation benefits at spas and resorts, organizing healthy food services at work, health insurance, vacation camps for children and maternal support programs.
Developing sports is another vital component of Mechel's social policy. In order to promote healthy lifestyle and sports among our employees, we regularly hold sports festivals and games for our staff and their families.
In order to ensure a worthy lifestyle for our employees after retirement, the company offers a corporate retirement program.
Faithful to the principles of social responsibility, Mechel's enterprises invest heavily into social and economic development of the regions of our presence, primarily as major taxpayers and employers, ensuring jobs for the local populace with competitive salaries.
We understand that social responsibility for our employees and those who live in the regions where our enterprises are located is a necessary component of our business's prosperity. We make maximum effort to provide for our employees and their families, strengthen their confidence in the future.